Reversal of fortune
For years it looked as if Robbie Williams was having the last laugh at the expense of his former Take That band-mates. Then he dropped out, grew a beard and went off to look for aliens, while Gary and co re-formed and stormed back into the charts. What now for the wayward star?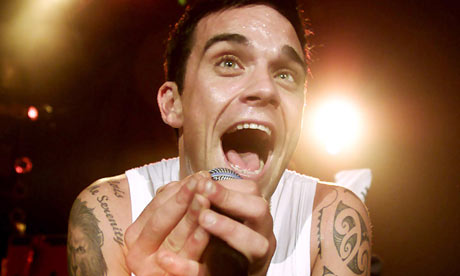 How the pop mighty are fallen. Robbie Williams, the man who has sold more albums in the UK than any other British solo act (55m), won more Brit awards (15) and sold more concert tickets in a single day (1.6m, for his 2006 world tour), has just been informed that he's not wanted back in the band he left in high dudgeon in 1995. Take That's Gary Barlow said on Chris Moyles' Quiz Night on Sunday: "We're a happy band right now. Robbie won't be joining."
The idea of Williams even considering such a move was inconceivable just a couple of years ago. His 2006 world tour came hard on the heels of Take That's reunion after a decade in the wilderness - during which time Mark Owen won Celebrity Big Brother but lost his record deal, and Barlow earned a living out of the limelight as a songwriter for the likes of Donny Osmond.
"While we've been on holiday, [Williams] has been taking the world by storm," came the grovelling statement from the newly reformed band. "The door is always open for Rob. If ever he's bored one day and we're on the road and he wants to come and sing a song, we're always ready to do that. We'll have a spare mic ready for him on stage."
Not, it seems, any more. Having regrouped for a speculative album and tour in 2005, Take That are once again the biggest pop group in the country, while Williams ... well, put it this way. In an interview in 1998, Barlow told me he had been "watching with horror" as Williams's solo career went stratospheric just as his own was dribbling to a halt. Now Williams must know how he felt.
Take That's resurgence has been mirrored by a dramatic fall in Williams's album sales, amid tabloid (and, indeed, Radio 4) tales of eccentric popstarish behaviour; notably an obsession with unidentified flying objects.
If a change of image was the plan, Williams certainly did the trick by revealing his interest in aliens. A year ago, he grew a beard and went to the Nevada desert to find the extraterrestrials he was convinced were out there. His quest, in the company of journalist Jon Ronson, was broadcast on Radio 4 as Robbie Williams and Jon Ronson: Journey to the Other Side. "I've been spending so much time at home on the internet on sites like abovetopsecret.com," he told Ronson. "I want to go out there and meet these people. I want to be a part of this. I want to do something other than sit in my bed and watch the news."
Robbie did something, all right. From that moment, he was cast by the UK press as a weirdo, with the UFOs and especially the beard being cited as evidence that he'd lost touch with reality. He wasn't unaware of how it appeared - "I've grown a beard and I'm going to Nevada to speak to people about UFOs. I think I should shave so I don't look so mad" - but that almost made it worse. Williams knew he'd be bracketed as mad, which is a category that doesn't sell many records, but he didn't care.
Suddenly, the behaviour of recent years - the hermit-like existence in Los Angeles, where he stayed in on his own every night; the lack of new music; the opening night of that 2006 tour, where he offered everyone in the Dublin audience a refund because he'd hated his performance - was seen not as a superstar's little foibles but proof that he was, well, nuts. And now there were aliens, too. And, to add icing to the fruitcake, this former superstar with 55m album sales under his belt moved back to Swindon and wants to rejoin Take That. In pop terms, that's sad.
After five years in LA, where he lived during a do-or-die attempt to break America, Williams finally moved back home in January. According to the Sun newspaper, he now passes his evenings playing poker at a casino in Swindon where, according to a Sun source, he "plays to a very high standard" - but even so. To be hanging out at Swindon's Premier Club drives home the perception that things aren't what they were - even if he has impressed regulars as "a serious adversary around the poker tables here", and presumably only frequents the Premier because it's a few miles down the A4361 from his new pad in the Wiltshire hamlet of Compton Bassett, where he lives with an American actress, Ayda Field.
The trouble is, Williams' self-esteem appears to depend on maintaining a level of success that no pop star realistically could expect to maintain. Having had to throw in the towel in America - where fellow Brits Amy Winehouse and Adele have been garlanded with Grammys, while he's had to settle for a small cult following of Anglophiles - he is now seen as an oddball who is almost better known for chasing UFOs than he is for singing. For Williams, it must be the stuff of bad dreams.
It is, though, little wonder he never made it in the US: he has the kind of personality only the British understand. While there are US stars aplenty who are similarly arrogant, vulnerable and needy, Americans aren't used to pop turns who actually amplify such qualities and turn them into selling points. It was, therefore, probably a mistake to have titled his 1999 American debut (a compilation of his first two UK albums, Life Thru a Lens and I've Been Expecting You) The Ego Has Landed. As far as Americans were concerned, it just didn't wash. The Ego Has Landed? Who is this schmuck?
By contrast, British audiences found his quirks endearing and humanising. So while America saw him as a self-obsessed upstart whose music wasn't even glossy enough to sell records, here he was good old cheeky, loveable Rob, and had a fantastic run. For a while - between, say, 1998 and 2004 - he was indisputably the country's biggest solo artist.
Besides the £80m EMI Records is said to have paid him to renew his contract in 2002 - a deal that put him in the league of pop's super-earners - Williams even received a special citation from British funeral directors, who announced that Angels was the most popular song at funerals. In 2005, it also won a special Brit, voted for by the public, for being the best UK tune of the last 25 years. Think of that: better than anything by the Stone Roses, Queen, the Jam, Blur. No artist wins that kind of acclaim simply by making good records. It was always more personal than that.
Maybe we - I'm a fan myself - just responded to his craving to be the centre of attention. Like many famous people, he is self-centred (check out his 2002 European tour documentary, Nobody Someday, for lengthy scenes of him holding court backstage, talking about himself); unlike most famous people, he's amusing with it. I once stood behind him in a queue outside a club in London and tuned in to his conversation just as the doorman was telling him it was so crowded inside that he and his friends couldn't go in yet. Affecting outrage, Williams said: "I'm not standing for this!" After a beat, he added: "So I'll sit." You probably had to be there. But it made the people in the queue, who were by no means Williams fans, laugh and decide he wasn't so bad after all.
That was also how he managed to turn around a moribund solo career (after 18 unspectacular months, he was rumoured to be about to lose his record deal when he released the massive-selling Angels). In every press interview and TV appearance, he was funny and cheeky, and kept at it, consistently being a good egg, until he won the public over.
Of course, Williams also turned out to be a fantastic, charismatic live performer - something that hadn't been evident when he was one of five in Take That - and he had fabulous, unforgettable tunes, co-written with Guy Chambers ("who's as much Robbie as I am", as Williams solipsistically described him). It was an unbeatable package.
It helped, in that early period, that his main rival was Take That's lead singer and main songwriter, Gary Barlow. Though his own solo career initially outshone that of Williams, he came across as sober and reliable, which are qualities you'd look for in a prime minister, not a pop star. Next to him, Williams was sparkling and mercurial, and he quickly saw off Barlow, who disappeared from the public eye (and in the process becoming something of a laughing stock) to write songs for others until Take That reunited in 2005.
But winning that battle wasn't enough for Williams. Still insecure despite having amassed a huge following, he relentlessly slagged off Barlow and Take That's former manager, Nigel Martin-Smith. Barlow was "a cunt with a briefcase", and Martin-Smith became the subject of the vindictive song No Regrets ("If I could just stop hating you/ I'd feel sorry for us instead").
And he just would not let it lie - as his success grew and grew, until he was more successful than Take That had ever been, Williams still nursed a grudge. In 2006 he wrote a track, The 90s, that was so disparaging about Martin-Smith that his former manager took him to court. When the song appeared on the album Rudebox, a libellous verse had been removed.
Depression and loneliness have been a regular theme in both his music and personal life. Williams has always attracted speculation that he is gay, or at least bisexual, and when asked he's been equivocal. He once said: "I've never done anything with a man. The thought has passed my mind, but it always stops at his bits." Perhaps the fact that his relationship with Field has now lasted two years will finally quell speculation.
Well-publicised drug problems in the years after leaving Take That were eventually overcome in rehab, but Williams later speculated that prolific consumption of ecstasy in his drugging days had so depleted his serotonin (the hormone that regulates mood) that he had been left in a permanent state of depression. At the very peak of his career, on the single Supreme (from the 6m-selling 2000 album Sing When You're Winning), he was especially despondent. "When there's no love in town, this new century keeps bringing you down," it went, which ran counter to the Y2K optimism the rest of the world was feeling.
The Knebworth shows of summer 2003, witnessed by 375,000 adoring fans, will undoubtedly be the moment he'll relive when he's trying to persuade his great-grandchildren that he used to be a rock star. And, notably, it wasn't just young girls doing the loving. There were as many men as women in the crowd, and they were blokey men who looked like they'd just come from an Oasis gig. They would have hated Williams when he was in Take That, but the wisecracking, flawed solo performer was a different story. His apparent awe at being there made him seem like a member of the crowd who had just got incredibly lucky, and they loved him for it.
If Williams had quit music after Knebworth, he'd have gone out at the top. It's a shame the £80m EMI deal meant that wasn't an option. What followed, almost inevitably, were diminishing returns. He'd cut professional ties with Guy Chambers, who had co-written his biggest hits, after his 2002 album, Escapology, and soon found out exactly how important Chambers had been. Despite the respected songwriter Stephen Duffy being brought in for the next album, Intensive Care, it received mediocre reviews, and the one after that, the "experimental" Rudebox, fared even worse. A two-star Guardian review said: "A scant handful of highlights aside, it is packed with half-baked ideas, bad jokes, music that any other star of Williams' stature would be terrified of the general public hearing." He seemed to agree: the normal thing would have been to promote it with interviews and TV appearances, but he decided to tour Latin America instead.
Apart from appearing on a single earlier this year with the Dutch techno DJ Sander Van Doorn, Rudebox was the last anyone has heard from Williams musically. Apparently, he has finally cranked into action and begun recording with producer Mark Ronson for an album expected to materialise at the end of this year. Whatever he comes up with will have to be stunning if he's to regain his good-old-Rob stature and delete the bearded, UFO-chasing picture from the collective consciousness.
It would, of course, be a sight easier if Take That hadn't sneaked back and supplanted him in the public's affection. It was bad luck (or fate?) that they returned just as he was reaching a pinnacle of hubris, releasing the difficult Rudebox, then refusing to make so much as one guest appearance on Take That's tour, despite fans' ardent requests. But how could he have known their reunion would be such a success? Their two albums since reforming have been among the biggest selling UK albums of the decade, and a forthcoming stadium tour sold out in record time. They and their bright little ditties are officially back for good. Could Williams still sell out a stadium himself any more?
As Take That ascended, his star waned; in 2007 he checked into rehab for addiction to prescription drugs on the same day Take That were being honoured at the Brit Awards (which was taken by the tabloids as an attempt to upstage his former band mates). Everything he did was interpreted as a sign of mental decline: he put on weight, and the Sun compared him to Elvis in his final days; he revealed a penchant for multiple daily espressos and cigarettes, and the tabloids viewed it as a lack of self-control. And in the meantime, his nemesis, the "cunt with a briefcase", was sitting at No 1 in the charts.
If Williams didn't feel bitter, he wouldn't be human. But nobody knows how he feels, since he hasn't done a proper interview in years. According to both parties, he and Take That are, at least, on speaking terms again. "We got together a lot in the summer. It was amazing. We've all matured a lot since we parted. The thing that struck me most was how much fun they're having," he said on his official website a few months ago. Or did he? He went on to post the following cryptic message on his website on 1 April: "There was no interview regarding me getting back with Take That. The boys have their thing and I have mine."
Now Barlow appears to have ruled out the idea of a reunion altogether (the prospect is unpopular with Take That fans, with 64% voting against it in a survey in New magazine) - despite there being a great deal of money in it for both sides (as a guideline, last year the Smiths were supposedly offered, and declined, £20m to reform).
So perhaps Williams will just have to crack on alone and plot his next move according to reaction to his forthcoming album. A spot of lying low in Compton Bassett, regrouping and writing songs, followed by a low-key return to performing could be just the ticket. After all, it worked for Take That.
Fuente : http://www.guardian.co.uk/music/2009/